ANTI IMITATION LABEL
Efforts to prevent counterfeiting
In order to cope with the damage of counterfeit products that has been increasing in recent years,
We use anti-counterfeit labels that apply patented special hologram technology.
Please check when purchasing our products.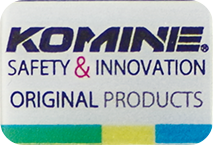 Anti-counterfeit label adopting patented technology
Patened forgery precention label
ATTENTION
Please be careful about malicious copy products!
KOMINE copy products have been confirmed on Internet auction sites.
From time to time, we also confirm purchase of suspicious products and confirm that copy products are in circulation.
As copy products diversify year by year, the situation is becoming increasingly serious.
Items whose shipping source is [Overseas] are
100% copy products

.
In the domestic distribution form of Komine, there is no direct shipping from overseas without going through our company.
Komine cannot accept any repairs or guarantees for copy products.
We accept information on copy products from time to time.
If you suspect a copy product, please let us know.